Analyze and Report in Kenya
mWallet Analyze and Report tool allow supporting decision making and measure wallet performance.
This tool provides useful interface, that allows you to create reports of detailed wallet activity.
Use the reporting tool to select the wide variety of data to report and to shape reports using filters and other parameters.
Data available for report is located in Datasets.
Key Analytics and Reporting elements
Cluster Analysis
● Transaction data and participants personal info. Real-time transaction analysis. Create customer groups for specific offers and campaigns
● Analyze sales
● View groups
● Work with groups
● Make reports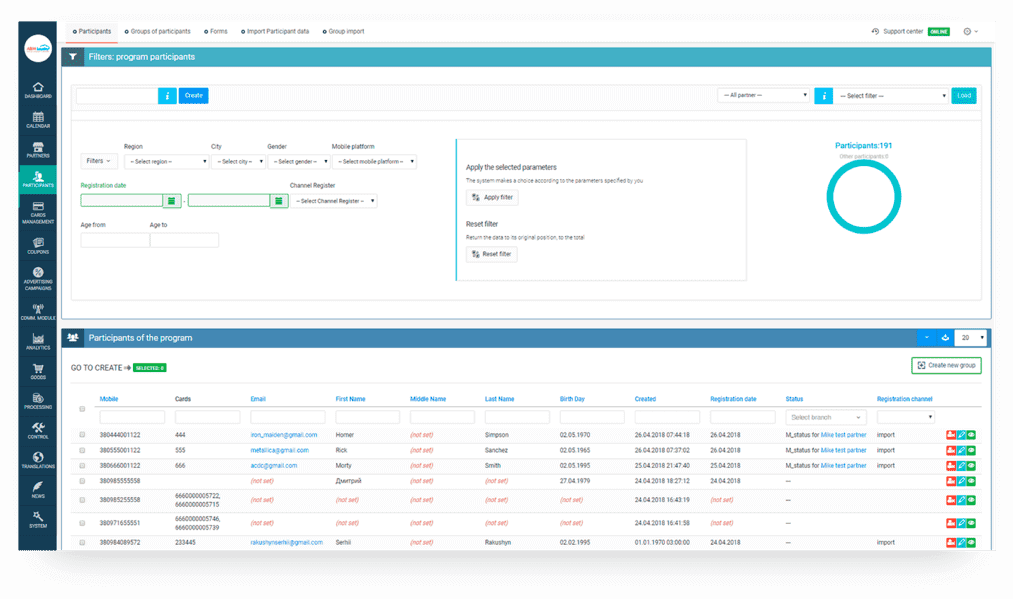 RFM Analysis
● RFM analysis – strong marketing tool, allows to have a clear picture of all customers and use it to create specific offers and campaigns
● RFM metrics: Recency, Frequency, Monetary
● Group clients by RFM metrics: New comers, Valuable, Not-so-valuable clients
● Save groups
Product Analysis
● Product analysis allows having the clear picture of demand on the certain product in particular store in defined time. It allows comparing the demand of goods
● Analyze and compare products demand
● Form groups of products for analysis
● Filter products
● Pick the period to analyze
ABC Analysis
● ABC analysis allows to monitor the range of products in higher demand, effectively manage your sales, product residues and supplies
● Classify products by Pareto law 20 % of goods make 80 % profit
● Pick your own share-part and period to analyze
● Filter by POS
Different Reports Types
● Track sales volume (hours, days, weeks, months)
● Track bonus issue
● Customers demographic data – gender, age, geography
● Number of participants, involvement
● Create behavior groups and have reports of them
● Segment groups by personal info