Bank mobile wallet n Russia
Mobile financial services (MFS) are gaining the upper hand. As digital technologies and mobile connectivity move forward, banks' limited capability to improve financial inclusion is no more an issue. Digital bank or neobank solution are simple to do!
The MFS Enabler platform (which comes with a white label app) is based on a processing center for e-money. It is an engine enabling to make payments and transfers, use mobile wallets and conduct transactions between them, ensuring the most efficient client outreach and establishing new revenue streams.
MFS Enabler makes getting unbanked people reached simple and easy, providing all the advantages and flexibility of modern digital banking and neobanking.
Mobile Wallet Benefits for banks
'Powered' neobanking
MFS Enabler is far from just being a mere bank mobile wallet. Rather, it is an integrated MFS frameworkoffering B2B, B2C and P2P technologies, technical and business developmentsupport. Enhanced with bank digital wallet capabilities, itmakes branches unnecessary andestablishes revenue streams from transactional and non-transactional user activities.
Reassessment of sales potential
MFS enabler comes with a white-label banking app, integrating financial products, transactional services and merchants into a coherent whole. Having your financial products and prepaid cards features on board will boost your sales in different segments.
Clever client acquisition models
People say that traditional banking products may be too complicated and intricate to deal with. As opposed to them, digital and mobile financial servicesare very convenient to use and buy, making life easier for both customers and businesses.
Out team's extensive financial background helps drive e wallet banking commercial outcome
Our key team members have more than 15 years of C-level banking experience prior to fintech. That means profound understanding of how the traditional credit- and debit-processing chains work and what roles all the involved parties play when the process is put on digital rails for the benefit of our clients.
Yuriy CHAYKA
Chief Innovations Officer
18 years in banking sector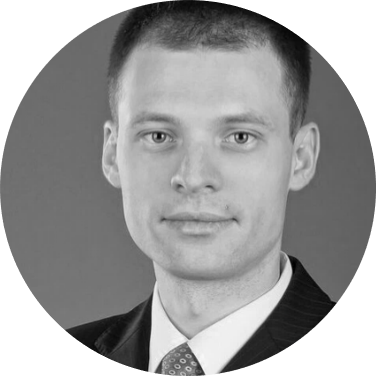 Mikhail MIROSHNICHENKO
CEO, Co-Founder
18 years in banking (15 years C-level)
Vasiliy CHERNOMOROV
Chief Technical Officer
17 years software business development
Volodymyr BUDANOV
Chief Sales & Marketing
20 years in banking (15 years C-level)
Maximize impact
As mobile financial services imply a lot of revenue streams to get tackled (transactions, services, subscriptions and so forth), our solution provides tools and techniques to finetune each one of them after the implementation.
Lower costs
As a white-label solution with fast deployment rate in just 2–3 months, MFS Enabler narrows down the need for from-scratch development and minimizes cost of maintenance and infrastructure.
Set up new revenue streams
MFS Enabler makes possible for the financial institutions to earn more by connecting merchants and services beyond banking, thus improving users' loyalty with enriched mobile experience.
What are the benefits for end users?
Mobile white-label banking
Financial freedom with bank accounts, cards, loans, deposits and payments brought together into a mobile phone
Loyalty cards
All loyalty cards stored in one place
E-wallet and prepaid cards
Start using financial services and pay online after downloading the mobile app and topping up a balance.
Rewards and cashback
Collect and redeem points for in-app activities
Cashless payments
Connect Visa and Mastercard cards to the bank mobile wallet and pay using contactless (Google Pay, Apple Pay) or using QR or NFC technologies
Different payment modes
Choose to pay by direct carrier billing, credit card, bank account or e-money
Pay for goods and services
Pay electricity, water or gas bills, shop online storesdirectly in the app
Discover digital banking solution and more
Enjoy exclusive offers, send gifts, buy tickets, store passes and more…
Instant money transfers
Using phone number send money to Friends and Family members
Case studies for banks and financial institutions
'Alif Capital' micro-financing organization
200K Tajikistan
customers
Context
'Alif capital' needed a technology partner and reliable solution to provide easy access to financial services for the unbanked population of the country.
Solution
Alif.mobi is a mobile wallet that makes possible for the end users to open an electronic wallet upon downloading the app, to connect several bank cards to it, and make instant P2P transfers and payments using QR codes. The bank mobile wallet features a vast catalogue of services that can be purchased directly in-app (mobile communications, utilities, Internet services, the classifieds, loan repayment, etc.)
Contact us and get to know more
● Tell us a few words on your business objectives
● Think of what integrations may be necessary
● Request a platform demo
● Download and test a demo app
● We will outline the optimal cost for your custom solution
Field-proven e-wallet banking solutions
Mobile wallet for banks is a cutting edge solution expanding your opportunities for attracting new customers, fostering existing clients' loyalty, building strong brand recognition and increasing profitability.
It's an easy-to-use application, compatible with multiple mobile devices and focused on granting a secure omni-purpose tool to customers. The software serves to integrate a user-friendly interface with a payment gateway backed by a bank or with a payment service provider in order to connect the customers with a vendor or other individual. By downloading the software to their smartphones or tablets, the users are enabled to make all kinds of payments without using any cash, checks or plastic cards.
Unlike the traditional mobile banking offered by many today's financial institutions as a part of their core banking system, this digital technology doesn't require its users to have a bank account for enjoying remote transactions via the Internet. Moreover, the software features are not limited to only conducting financial transactions, but also cover useful managing tools and marketing opportunities.
Bank Mobile Wallet – Fast Money Transfer Everywhere
This industry-led banking solution contributes to digital transformation, enriching customer experience and making clients' everyday life remarkably easier. As a modern and competitive financial institution, you are expected to provide a customer-focused digital architecture that goes beyond traditional banking and makes your products more accessible for both banked and underbanked customers. They are sure to appreciate fast and easy access to the abundance of financial services and associated options:
● They can handle microfinance operations, pay bills or transfer money between their accounts instantly.
● They can purchase millions of products and services, paying directly in the app, online or in-store.
● Their bank account can be linked to the wallet for viewing and managing their balances, transactions, deposits and other banking products.
● The software allows for the safe storage of their invoices, bank card details, loyalty programs, coupons, ID cards, e-tickets and other documents.
● The customers can collect and redeem all kinds of rewards for their cashless payments in the app.
● They can avail of centrally controlled payment tools, including pre-paid mobile accounts, bank accounts, credit and debit cards, cryptocurrency and digital wallets.
Digital Transformation Bank – Great Advantage
The development of mobile wallet software is a competitive edge for a financial service company since this results in providing its customers with a helpful tool and improving the company's customer reach.
Both underbanked customers and clients of other banks can use your wallet for fast and convenient payments, and they are likely to be impressed with your engagement into industry digitalization. And it's easy to get them interested in your banking services by offering news, product demo, advertising banners or push notifications right in the app. Your existing clients will be pleased to receive personalized offers and loyalty bonus in addition to the possibility to purchase your products via their smartphones and tablets. By replacing cards and cash, which are easy to get lost or stolen, with contactless or QR-based mobile device payments, you'll gain favor with the next generation of your customers.
While this ready-made software involves less investment and operative expenses than Finacle or many other mobile wallet solutions, it works great for acquiring new customers and building loyalty with existing ones.